Social & Ecological Regeneration
mycelium is an ecosocial design agency based in Luxembourg. We develop and employ holistic strategies that regenerate earth systems and social systems through design, training and facilitation. We work with public institutions, companies and individuals.
"The best way to predict the future is to design it."
~Buckminster Fuller
Ecosocial Research, Design & Consulting
Mycelium acts as an independent consultancy. The goal of all our services is to offer practical solutions to the world's biggest social and ecological challenges.
As we have reached a point beyond mere sustainability, we feel the need to regenerate the conditions that support life on Earth – soil and land, as well as our social relationships.
Regeneration, as our guiding principle for action, means growing such landscapes and organisations that give back to the Earth and improve, instead of deplete, as time goes by.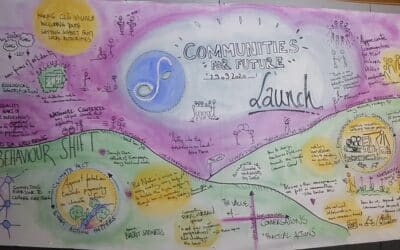 I did the graphic recording (circa 3 hours) for this online launch of Communities for Future. Here are a couple of pictures resulting from the graphic. Somehow I ended up with very bold colours, hopefully indicative of the boldness of communities across Europe and...
read more
For general inquiries, please get in touch through the form so we can be at your service.  
If you have a project you want to discuss, please use this form so we can respond to your needs in more detail or book a consulting appointment in our shop.