I did the graphic recording (circa 3 hours) for this online launch of Communities for Future. Here are a couple of pictures resulting from the graphic. Somehow I ended up with very bold colours, hopefully indicative of the boldness of communities across Europe and beyond in transforming our transition pathway.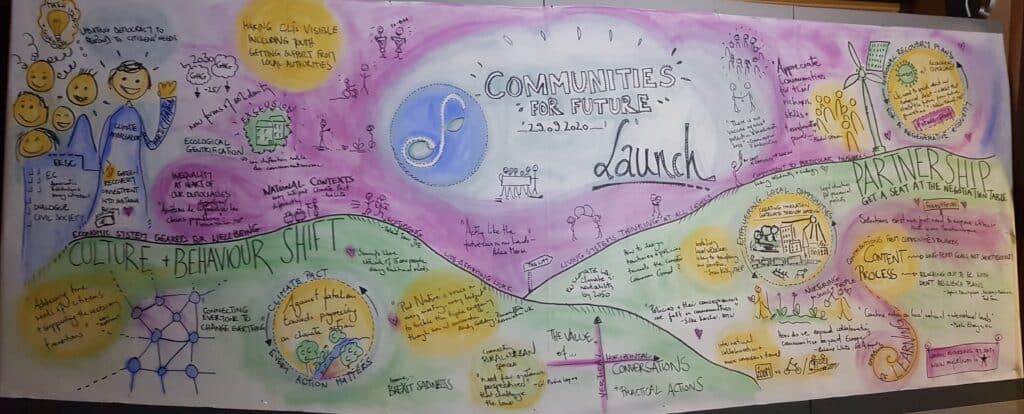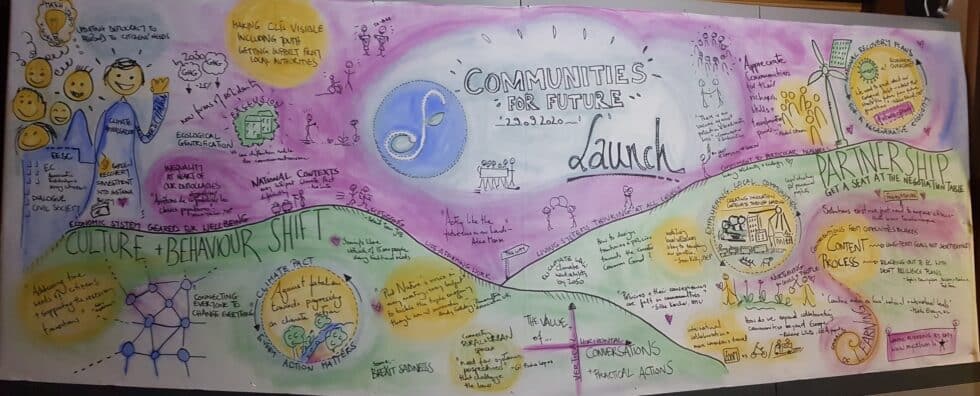 This online event explored the potential of communities to revive local economies as we emerge from the pandemic, in a way that takes account of the deepening climate and ecological emergency and the urgent need for a deeper societal transformation.
Within the context of the Covid-19 pandemic and the commitments towards the Paris Agreement, the European Green Deal and the Sustainable Development Goals, this online event will bring together representatives of:
the European Parliament (MEPs);
the European Commission;
the European Economic and Social Committee;
the Committee of the Regions;
national, regional and local governments;
community-led initiatives;
NGOs.
Communities for Future
Communities for Future – a new, integrated Europe-wide programme to inspire, empower and enable local community-led responses to the climate and ecological emergency – recognises that there is no one solution fits all,  so engaging citizens locally, and bridging divides, creating cohesion between rural and urban, young and old, North and South and East and West Europe, are an essential part of the mission. Communities for Future values and puts communities and citizens at the centre of the conversation.